Song of the Week: Clowns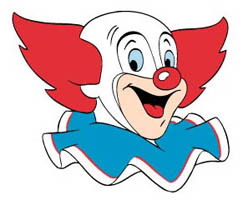 This is Sandy, with the latest song of the week.
One of the earliest songs written for what would become Son of Sam I Am, "Clowns" is also a signature song of sorts for online canadian pharmacy us. For one thing, it's a media magnet: when Howard Stern mentioned TMJ on-air (a watershed moment for Tommy and I), the show discussed the lyrics for that song. More famously, Bobcat used it as the end credits track for Shakes The Clown. During Cereal Killers promo, I remember our biz people telling us that Bobcat Goldthwait, who we loved, was a big fan and wanted to direct a video for us for "Crush Story." I guess I was unclear what the next steps would be for this, but I remember waking up that Saturday to a knock on my apt door and this disheveled, balding ball of energy was at our door unexpectedly.
Bobcat was a really enthusiastic fan and hooked us up with a tv gig on his show later on.
He didn't (and probably still doesn't) drink though, and I remember him being appalled at our backstage liquor consumption.
Musically, "Clowns" exemplifies a lot of what one might call the 'TMJ sound': while the chords are simple and anthemic, the syncopated rhythm and layered harmonies (Sandy high, Jay mid, Tim low) in the chorus are in many ways our calling card. Live, the song also provides a 'donut' section for Tim to fill with all sorts of spontaneous verbiage.
If a TMJ virgin asks for a few song suggestions, I invariably include "Clowns."
Here's the song's original and later-censored intro, pillaged from Jay's "Bozo" record. Not sure why he had that actually.正方形支架水池
And here's the song itself.
Tags: Son of Sam I Am