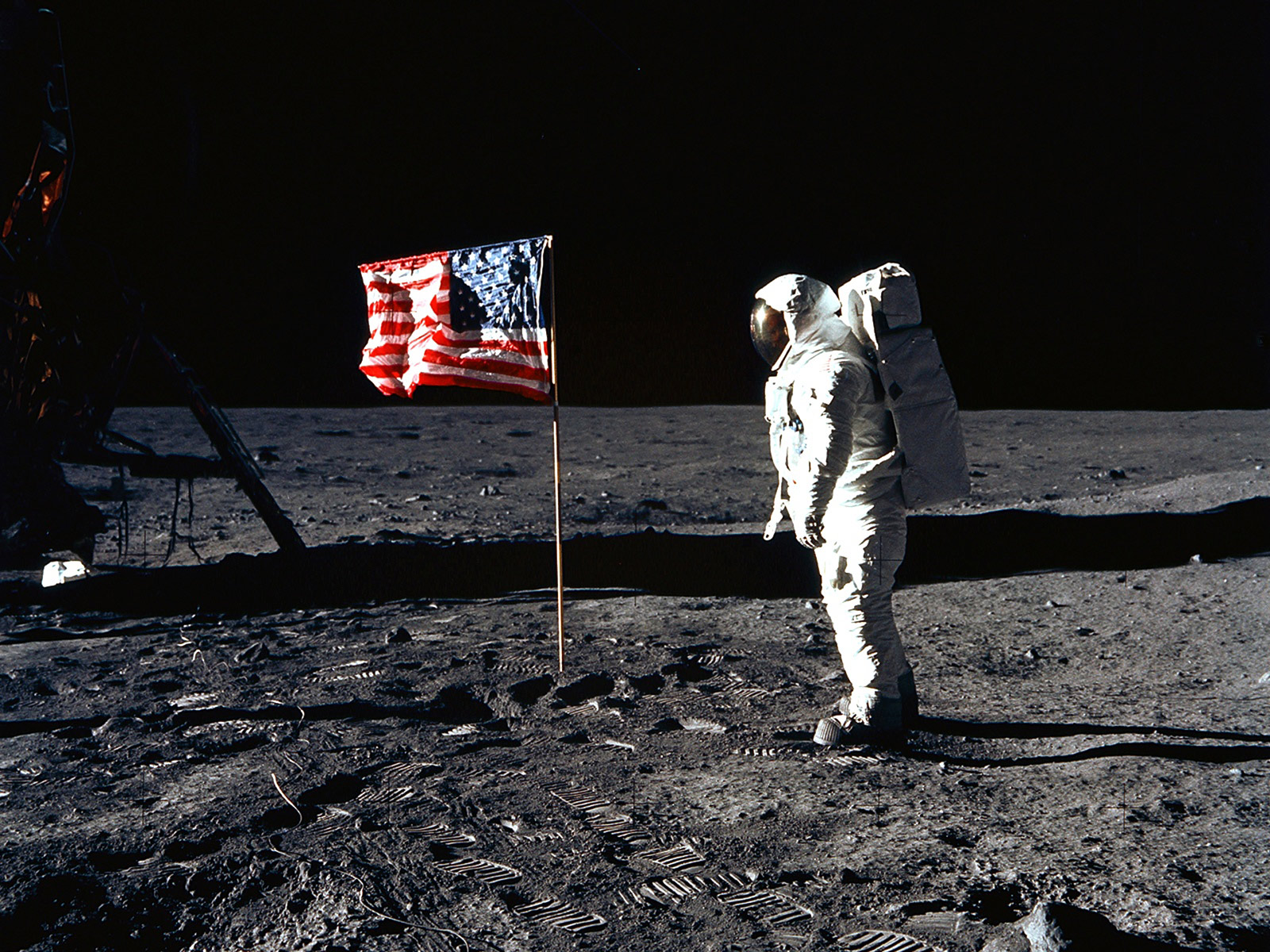 Sandy, Jay and I all graduated from the same high school the same year. The former grad who gave the commencement address was an astronaut in name only, as he hadn't yet actually been to space. It wasn't the most inspirational choice. Usually commencement speakers have accomplished something substantial, and their job is to convince all of us who haven't yet done much of anything with our lives that the potential is there, and to give us some advice from their own experience on how to make it blossom.
But this guy's example was pretty much telling us that years from now we might still be waiting in line to realize our dreams.
That fear, coupled with the dawning suspicion that even if/when you DO achieve your aspirations the satisfaction might be very brief and fleeting, is the subject of the song. I really can't imagine what a drag walking around on earth might be after you've semi-floated on the moon.
Producer Paul Fox got all mad scientist-y on this one, laboring over the vocal effects and background noises. I seem to remember him saying something along the lines of, "I want you to hear god's face." Have I mentioned how good the pot was in L.A. at the time?
Interesting might-have-been: my original desire for the cover of what became Cereal Killers was based on a lyric in this song. I wanted a shot of an astronaut standing next to that U.S. flag they planted up there, only holding a lighter to the bottom corner, with the flag just beginning to burn (yes, I know the physics of this are probably impossible, but still, sweet image, right?) and maybe a Too Much Joy patch somewhere on his spacesuit that you wouldn't notice till the 5th or 6th time you looked at the cover.
I wish we'd done that. But Tommy was against burning the flag. Even when I compromised and said the flag didn't have to be on fire, the astronaut could be just on the verge of lighting the flag, he was still against it.
These are the compromises you make, in a band.
Speaking of Mr. Vinton, here are his own recollections of the song:
This was one of the more stranger tunes on CK. Although at first listen it appears to be a straight ahead rocker, there are some really cool changes throughout the song which really don't mess with the tempo that much to be noticed. I absolutely love the B parts of the verses with Tim singing falsetto, and the way the drum beat and bass changes makes the part that more special. The end of the song includes an outro of us just going crazy. We never really played this song much live, but when we did it was a free for all at the end. It usually culminated in some combination of Jay writhing on the floor, Sandy hitting someone with his bass (accidentally), Tim jumping into the crowd, me destroying my drums…anything would go. I do remember our good friend/roadie Mike Arata creating a mic stand he called "stand o' death". The mic stand would be crudely set up with pyro/fireworks/shrapnel (who knows what he really packed in there). He would then instruct Tim to light it at a certain point and that would be our Kiss portion of the show. This certain point (from what I remember) would sometimes happen during "Goodbye Ohio". I'm still amazed we never caused a fire or injury doing this…but we did piss off a bunch of club owners. 
Oh, one other footnote: that commencement speaker, I'm told, actually did make it into orbit, eventually.