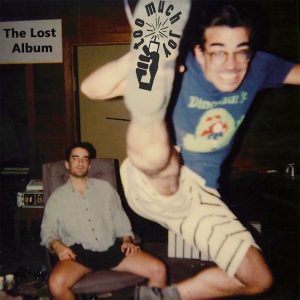 Bandcamp has been waiving their commission on the first Friday of every month, so TMJ is celebrating by making some rarities more widely available. Go to our bandcamp page to get the following goodies:
Dr. Seuss is Dead, a fan club 7″ from 1994 with three songs we promised we'd never make available in any other medium. Oops.
Mystery Limousine, a song we wrote in the early-'90s but never recorded until the aughts, originally released as a free download in Christmas, 2009 on this site
The Lost Album, which is all the songs we wrote after Mutiny but before Sandy left the band. Most of them came out on Gods and Sods or the Crack reissue, but it includes Sandy's original bass and vocal parts on 5 songs that came out in slightly different versions on …finally, all sequenced as they might have been if it hadn't taken us four fucking years to get another record deal.
Oh, looks like Topspin media, the company we used to power all the free streaming on this site, has gone out of business. So there are now just empty spaces next to all the old albums, and in a lot of random posts that used to have media players attached. Bummer. It's gonna take us a while to swap them all out using some other solution, so please bear with us in the meantime.