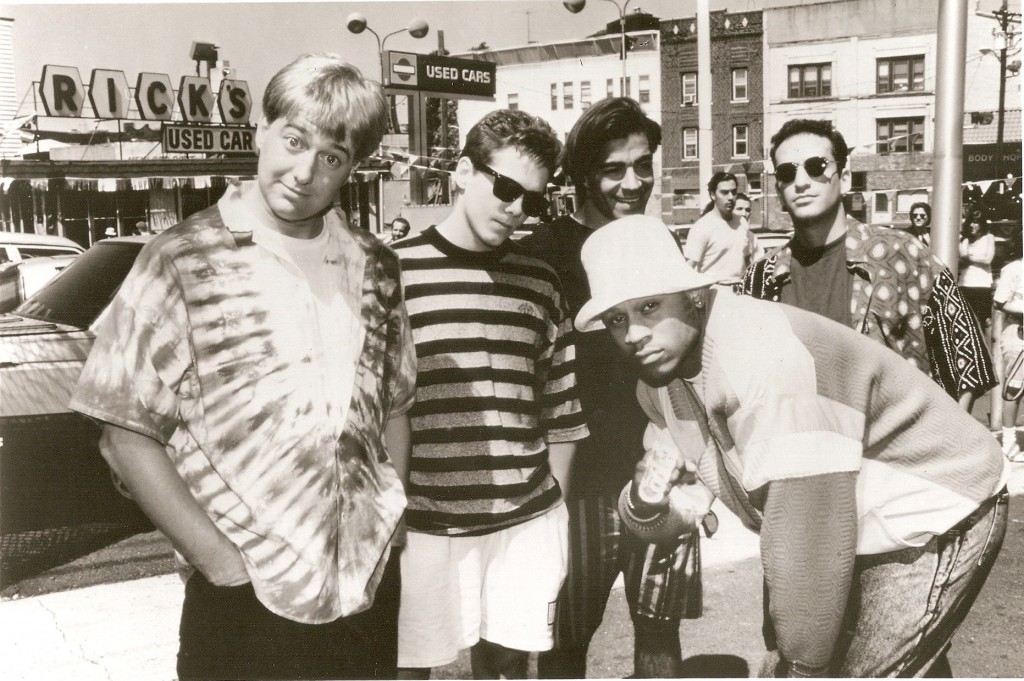 If you were to assemble a Too Much Joy vision board, it might have at its center pictures of Dee Dee Ramone and Mr. Fred Rogers, two very different sorts of imagineers, each one alive forever in the hearts and heads of the five guys in this band. There was a philosopher about 200 years ago who talked about the value of retaining the spirit of infancy into the era of adulthood (Emerson — it was Ralph Waldo Emerson), which might be the only thing Dee Dee Ramone and Mr. Rogers have in common, since they both built their lives and art around just that. When Too Much Joy record a song about the necessity of self care during the never-ending tire fire that blackens the skies of this era, and then summon gleeful memories of middle-school time off by calling that song "Snow Day" and filling it with buzzy guitars trying to ollie on a Flexible Flyer, well: same thing! Spirit of middle school into the era of adulthood! 
The core sound of this whipsmart band of smartasses is not a sound, exactly. It's a feeling. Suburban in nature, which is to say rooted in a place where everything outside your front door looks so much the same that you feel the need to make a noise to banish the boredom. And also a need to talk about serious things in an unserious way. This is what Too Much Joy has been doing since 1980, when the band started in the suburbs of New York City, to play some Clash covers at high school dances. Among their very first recordings was a hardcore version of a song from 1967 called "It's a Beautiful Day," written by Mr. Fred Rogers. 
"Every great band should be shot," Too Much Joy once opined, "before they make their Combat Rock." Luckily, this is not the case here — not the making their Combat Rock part. ("The month that Mutiny, our fourth album, came out," says singer Tim Quirk, "I got a postcard from a former fan that said only, 'Congratulations. You have made your Combat Rock.'") But the shooting part. No one got shot, and the band never broke up. Life went on, as life does, with founding bassist Sandy Smallens dropping out in 1994, and producer William Wittman locking in on bass with drummer Tommy Vinton and guitarist Jay Blumenfield for a fifth album, . . .  finally, in 1996. When Smallens got onstage again with the band in 2007, TMJ was a five-piece, and as it is now. 
Speaking of now, let's talk about Mistakes Were Made. An early working title was Last Century, because the band started this project by recording songs they'd written in the '90s but had never gotten around to recording. That meant digging through old rehearsal, soundcheck, and demo tapes to find gems like "Snow Day" and "Just Around the Bend" (both of which date back to 1992) and "Camper of the Year" (vintage 1994). "But the whole quarantine thing made us want to create new music," says Vinton, and TMJ was soon writing songs from scratch. Lots of songs. An IndieGoGo campaign to turn this flood of creation into an actual album had a crowdfunding goal of $5000. It netted almost four times that, and the band set up a practice of recording one old song for each new one, letting the old work and new work learn from each other. At which point there was another working title: The End of Time, "as the lyrics on both old and new tunes all seemed to revolve around memory and doom," says Quirk. 
Turning those acerbic thoughts into singalongs — achieving "the Randy Newman fronting the Clash" effect that Quirk holds as an eternal quest — has always been Too Much Joy's particular lane, viciously smart stuff that makes you laugh and think and fist pump or foot stomp. (Absurdist power pop, if you want a label.) Though the process was different this time out, because — well you know why, but also because Quirk and Blumenfield live on the West Coast, while Smallens, Vinton and Wittman live on the East Coast.
"We always write everything together," says Blumenfield. "Fighting together makes for great art." But that togetherness (and fighting) took new form in the pandemic era. Ideation was sometimes more individual and final creation collective, a way of making music that Smallens likens to The White Album. "Except the songs aren't as good," he hastens to add. The White Album also did not involve insanely long email threads or group texts, which Mistakes Were Made did. 
In the end, there were so many new songs that only three of the old ones made the cut. But here's the thing: remember what I said about making a noise to banish the boredom? Same thing now as then! Mistakes Were Made is a loud thing, full of short bursts of adrenaline (six of the 15 songs are less than three minutes long) and more developed mission statements like "New Memories" (about relationships that last long enough to discover that "a decent mattress is a must") and "More of the Stuff I Like" (about the search for a paradise full of punk rock where there's a vaccine against heartbreak, the road is flat whenever you're riding your bike, and you have all the money you need). It should be noted that the aforementioned more developed mission statements have some of the album's most bonkers guitar solos, so there will be no talk of maturity, please. Some of these songs may be old, but they are not grown up. 
A lot of Mistakes Were Made is a dance of light and dark. Sometimes this is what the songs are about, like "Blinding Light of Love," which yokes bass thunder and power chords to ideas about something (love? God? robins?) coming down from the heavens to save us from a diseased world choked by environmental decay and Facebook likes. Sometimes this is the way the songs work, like "Hair Shirt," which bounces sweetly on a rubber rodeo beat while it talks of sin and purification, or "Flux Capacitor," which catalogs surreal dream images over a stately, swelling ballad fit for a high-school graduation. "Too Much Joy songs try to be like public swimming pools," Quirk says. "They should have a shallow end and a deep end, and they shouldn't care which end you enjoy most." 
Shallow and deep, light and dark — there's a lot of contrast here, as is appropriate for a collection that mixes old songs with new ones. Whatever else comes with revisiting the territory of your youth years later, there's a certain liberation to it, a sense that you're free to take what works, and leave behind anything that doesn't. This might be the most adventurous and eclectic TMJ record. A whirlly synth melody animates "Not Being You," "Tranq It Up" starts out like a Who outtake before it's taken over by '80s new-wave guitar, Joan Osborne drops by to add guest vocals to "Uncle Watson Want to Think."
"Is there an ointment I can rub on my head to keep away these feelings of dread?" asks Blumenfield in "Something to Drink About." Consider this music such an ointment. Apply liberally. Repeat when necessary.  – Joe Levy
If you'd like to know their names, here they are:
Jay Blumenfield sings and plays guitar.
Tim Quirk stands in the middle and screams.
Sandy Smallens played bass and sang until 1994, then returned to the fold 15ish years later.
Tommy Vinton plays drums and bitches about being the only one with a legitimate day job.
William Wittman plays bass and starting singing after Sandy left the band.