The Kids Are All Gone (2009)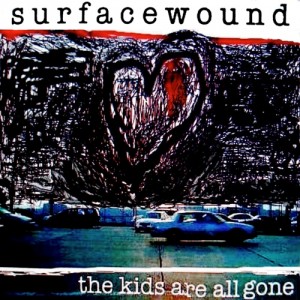 "The Kids Are All Gone" is Surface Wound's debut full-length album on the Acquired Taste label.  12 songs (including one cover) by Sandy, Tommy and new-since-the-EP guitarist/vocalist Steve, whom the boys shook out of Craigslist.  Some tunes are a few months old; some almost a decade.  The album was recorded in the Spring and Summer of 2009 by "General" George Fullan, who, in addition to having some fancy credits (The Rolling Stones, Cheap Trick, Taking Back Sunday), also sings for a very cool hardcore group Three Years Older.  You can sample his vocal stylings at the end of "Nobody's Diary."  George also recorded some TMJ stuff and ran the soundboard for their 2007 reunion show, so he's no stranger to the mayhem.  He and the band co-produced…which was essentially them all trying not to embellish or overdub anything too often.  The album was mastered by Randy Merrill at Masterdisk.  We don't fuck around.
The band continues to write, record and is playing some select shows, for the alternative of not making any music is…unbearable.