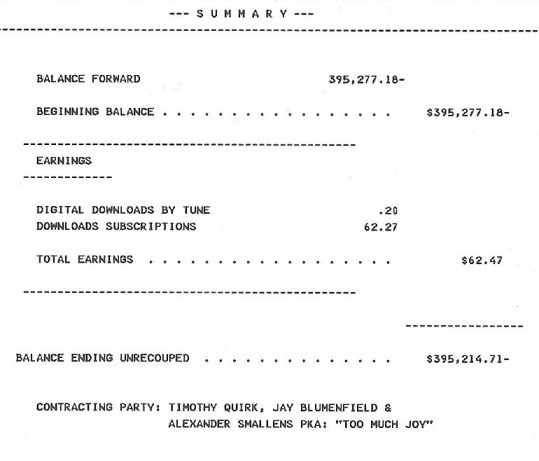 I got something in the mail last week I'd been wanting for years: a Too Much Joy royalty statement from Warner Brothers that finally included our digital earnings. Though our catalog has been out of print physically since the late-1990s, the three albums we released on Giant/WB have been available digitally for about five years. Yet the royalty statements I received every six months kept insisting we had zero income, and our unrecouped balance ($395,277.18!)* stubbornly remained the same.
Now, I don't ever expect that unrecouped balance to turn into a positive number, but since the band had been seeing thousands of dollars in digital royalties each year from IODA for the four indie albums we control ourselves, I figured five years' worth of digital income from our far more popular major label albums would at least make a small dent in the figure. Our IODA royalties during that time had totaled about $12,000 – not a princely sum, but enough to suggest that the total haul over the same period from our major label material should be at least that much, if not two to five times more. Even with the band receiving only a percentage of the major label take, getting our unrecouped balance below $375,000 seemed reasonable, and knocking it closer to -$350,000 wasn't out of the question.
So I was naively excited when I opened the envelope. And my answer was right there on the first page. In five years, our three albums earned us a grand total of…
$62.47
What the fuck?
I mean, we all know that major labels are supposed to be venal masters of hiding money from artists, but they're also supposed to be good at it, right? This figure wasn't insulting because it was so small, it was insulting because it was so stupid.