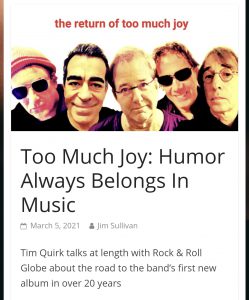 Jim Sullivan covered some of our earliest shows in Boston. He was at T.T. the Bear's when the band decided to lead the crowd in a parade out of the club, down the street, into the Middle East (where a different band was playing) and back. And he was there many years later at the Paradise, standing next to Tim's mom and feeling a bit uncomfortable as the band cursed up a storm.
Anyway, we consider him a pal, so it was a treat having an extended discussion about our new album with him, conducted over email and the phone.
Tim says you should read all the way to the end, as Jim got him to explain what the band does and why in the most romantic manner he's ever managed.
Read the whole thing here.