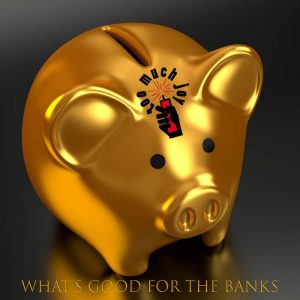 Another month, another exclusive track for donors to our IndieGoGo campaign. This one's called "What's Good For The Banks."
It's got two B-sides, the first of which is "Dick-Punching Foe of the Patriarchy," a song that was commissioned by Kristen Berg, who told us that's how friends describe her.
The third track is "The Otter's Return," which only exists because donor Ellen Bashore asked for a sequel to "The Otter Song." She said her original plan was to have us compose a song about her daughter Zoe, but Zoe was not keen on that idea. We can't imagine why. Zoe's reluctance gets a shout-out in the tune, because the song's all about telling the truth through fiction.