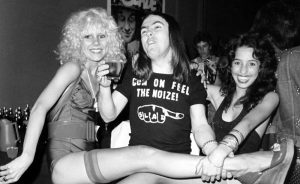 So the band's been having a big debate about if/how/why to arrange meet and greets at each gig. After much back and forth, and based on a lot of input from fans, we have decided to arrange genuine after parties in each city, to which we will be making available a very limited number of wristbands that can be purchased in advance or at the merch table.
If you just want a selfie with a band member, or a quick hello, you will almost definitely be able to do that at the gig itself, as TMJ are not ones to lock themselves in the dressing room. But if you're interested in sitting down and yakking about stuff over drinks for an extended period of time, then we encourage you to buy a wristband for one of the after parties.
Doing it this way means we have to spend (and therefore charge) more than if we just set aside a half hour at the venue during soundcheck, but hopefully the end result will be worth it.
In Boston, the after party will be held at Sonia, the same venue the band is playing. There are only 33 tickets available directly from the venue: here.
In DC and NYC, the after parties will be held at secret locations disclosed only to those who buy wristbands in advance (you'll be able to buy one at the merch table each night, but since we're only selling a couple dozen of these, you can also reserve one below and pick it up at the merch table when you get there).
$50 gets you a wristband, and membership in a secret email group who will be receiving a message with the address of the after party shortly after TMJ's set ends each night.
$60 gets you that, plus a free t-shirt, plus a band member will personally purchase your first drink for you at the bar. Order wristbands for the DC party here, and for the NYC party here. For Boston, you can purchase directly from the venue here.
(NOTE THAT PRE-SALES OF WRIST BANDS HAVE BEEN CEASED. YOU CAN STILL SNAG ONE AT THE MERCH TABLE, THOUGH.)