We've got a brand new, professionally shot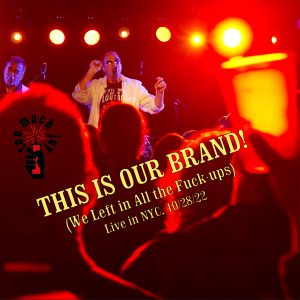 concert film. It's our complete set from New York City's Mercury Lounge last October (10/28/22, to be exact). You get every song we did, including all the fuck-ups, as well as every reading from Ye Olde Booke of Joy. It was edited by our video maven, Jake Wincek. You can even watch an excerpt from the performance, since we turned "What Pricks We Were" into a music video.
If you want a physical DVD, that can be obtained for $25 (including shipping to the US) by clicking the Buy Now button above. If you just want a digital download of the concert, you can buy one for $15 at Gumroad.
If you want BOTH a digital download AND a DVD, you can also buy that for $25 at Gumroad. We net the same amount whichever option you choose.
Expand this post below to peruse the set list.
Set list:
Susquehanna Hat Company
William Holden Caulfield
Normal Never Was
My Past Lives
Fortune Telling's Easy
King of Beers
Kicking
Uncle Watson Wants to Think
Worse
Magic
Long Haired Guys from England
Half Life
Blinding Light of Love
Donna Everywhere
What Pricks We Were
Crush Story
Minister of Loneliness (featuring Tommy Roulette)
That's a Lie
Clowns
Theme Song