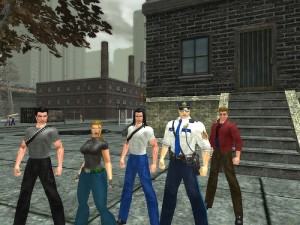 Welcome to the completely refurbished Too Much Joy site. We've set things up so you can listen to almost everything the band ever recorded, free of charge, in its entirety. You can also buy most of it, if you're so inclined, as well as T-Shirts and DVDs. In an obsessive-compulsive fit, we've scanned 20 years worth of press clippings, so you can marvel at how often words like "sarcastic" and "bratty" were used to describe TMJ, and cheer whenever someone notices a hint of actual feeling or insight in the band's ongoing attempt to communicate honestly in an insane world.
There are videos to watch, too, and photos with embarassing haircuts and poor clothing choices to laugh at.
Mostly, though, there's this page you're on right now, which has been designed to update far more frequently than the old site. Each band member has his own account, and is being encouraged to post here whenever the mood strikes him. To encourage this behavior, we're creating some recurring features that you can expect to see updated at least monthly, if not more often. One, Song of the Week, will spotlight a tune from the TMJ canon and gather one or more band members' recollections about the making and/or meaning of same.
We'll get that one started next week. We're launching with something a bit meatier: the Rehearsal Tapes Series, which digs unreleased songs out of the vaults and explains precisely why they never saw the light of day, or what they turned into when they did. For the pilot episode below, we've pieced together the album TMJ would have released in '93 or '94 if they'd stayed with Warner.
So take a listen to that, browse around the rest of the site, and let us know what you think and what'd you'd like to see more or less of. There are free goodies scattered here and there, and most of the player widgets you'll stumble across can be shared on Facebook, re-posted on your own site, emailed, or whatever.
If this works the way we hope it will, this new site will serve as the type of drunken conversation with fans and friends the band used to have before and after shows.
(That picture, by the way, is TMJ as computer game heroes. The lady in between Sandy and, uh, Jay, is Liz Reay, who created it.)