Bootleg 3-Pack ('91, '93, '96)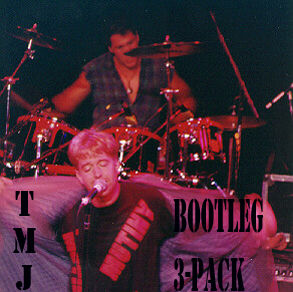 If you want a professionally recorded, mixed and mastered live CD from TMJ, go buy Live at Least. But if that's simply not enough Joy, or you miss hearing Sandy, this 60 track collection is for you.
We've selected three shows, from '91, '93 and '96. The first was recorded with a 24-track mobile truck, the second was taped by a fan with a Walkman, and the third was recorded off the board by the band's soundman. Together they give you the whole range of TMJ live – songs from Green Eggs and Crack through …Finally, a bunch of covers, the usual banter, inebriation and equipment malfunctions. A lot of it's inspired, some of it is merely unfortunate, and every once in a while the tape ends before the song does.
Set lists:
Los Angeles, 1991
Susquehanna Hat Company
Worse
Song For A Girl Who Has One
Long-Haired Guys From England
William Holden Caulfield
Making Fun Of Bums
My Past Lives
If I Was A Mekon
Thanksgiving In Reno
Crush Story
King attempt – Otter Song
Drum Machine
Seasons In The Sun
Kicking
That's A Lie (partial)
Police On My Back
Theme Song
Boston, 1993
Intro
Unbeautiful
Worse
William Holden Caulfield
Long-Haired Guys From England
Peacenick
Starry Eyes
What It Is
Just Like A Man
Secret Handshake
Take A Lot Of Drugs
King Of Beers
Donna Everywhere
Kicking
Crush Story
Susquehanna Hat Company
Magic
Seasons In The Sun
Birds Fly
That's A Lie
Map Like Mine
Theme Song
Boston, 1996
That's A Lie
Magic
Mrs. Now
Donna Everywhere
Poison Your Mind
Weak
Take A Lot of Drugs
Seasons In The Sun/Pop Muzik
Half Life
What It Is
You Will
King Of Beers
A New England
The Kids Don't Understand
Crush Story
Susquehanna Hat Company
William Holden Caulfield
Underneath A Jersey Sky
Long Haired Guys From England
Just Like A Man
Theme Song